Her style is bluesy and intimate with a sexy voice that's sweet as dark tupelo honey, and her interpretations are unerring. The musicians play to her and to each other and the ensemble is so tight that the four musicians breathe and move as one. There are some standards on the set that knocked me over with their fresh approach. Any singer can misplace a few accents and rhythms and come up with something that's original, but perhaps also uneasy and a little strange. Not Gomes, who has taken the songs to their bones and then restructured them to suit her style. Thus "Fever" doesn't sound like a cover of Peggy Lee; it sounds like a brand new take on a familiar song. You emerge from hearing it not thinking it's better or lesser than Lee's version, but that it's a valid new interpretation that could have come first.

Gomes creates a languid, bluesy version that is a little bit reminiscent of Bobbie Gentry while still coming across as quite original. It'll cast a spell over you"……..



Rad Bennet, SoundStage! magazine.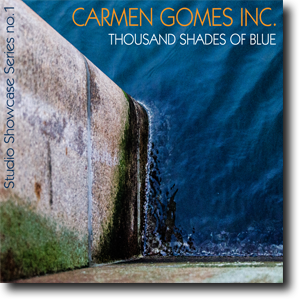 I'm on fire – B.Springsteen 3'18
You don't know what love is – D.Raye /G.De Paul 3'02
Thousand Shades of Blue – C.Gomes 3'43
Wicked game – C.Isaak 3'21
Angel Eyes – M.Dennis /E.Brent 4'03
The Dreamer – C.Gomes 3'54

Oblivion – C.Gomes 4'40
Time will tell – C.Gomes 4'22
Gazoa Blue – C.Gomes 4'19

(Sittin'on) the Dock of the Bay – O.Redding/ S.Cropper 4'02

The Sea – C.Gomes 3'55
Recording by Frans de Rond for Sound Liaison.
Mixing and mastering by Frans de Rond and Peter Bjornild for Sound Liaison. Recorded at 'Studio Eleven', Hilversum, The Netherlands, with a live audience on September 15, 2012.

Arrangements by Carmen Gomes Inc. Cover photo by Milan Bjornild. Art design by Disselconcepts. Photography by Ramon ter Plegt and Alex van Hoorn. Executive producer: Carmen Gomes.

Carmen Gomes – vocals
Folker Tettero – guitars
Peter Bjørnild – double-bass
Marcel van Engelen – drums, percussion

High res downloads www.soundliaison.com
downloads, cd for sale: www.carmengomes.bandcamp.com