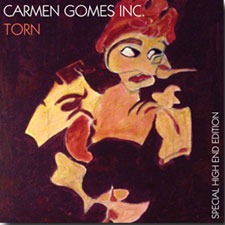 Recorded November 16 and 17, 2011 at 'Studio Eleven', Hilversum, The Netherlands. Mixed and mastered November, December 2011 and March 2012. Recorded by Frans de Rond. Produced by Peter Bjørnild. Mixed and mastered by Frans de Rond and Peter Bjørnild. Arrangements by Carmen Gomes Inc. Cover painting by Kirsten Bjornild. Art design by Disselconcepts. Photography by Vincent Carmiggelt. Executive producer: Carmen Gomes.
Carmen Gomes – vocals
Folker Tettero – guitars
Peter Bjørnild – double-bass
Marcel van Engelen – drums
High res downloads www.soundliaison.com
downloads, cd for sale: www.carmengomes.bandcamp.com
Carmen Gomes Inc. on Byton World Series: 'Callin' from K.C.' BY951018, 'Heaven is a State of Mind' BY971019, 'Gazing at the Sun' BY991021, 'Gotta Get' BY011022, 'Dreams' BY021024, 'Shades' BY041027, NU BY061032, on CFMusic: Desire Cgi2010.
Carmen Gomes would like to thank:
Piet Dissel, Vincent Carmiggelt, Frans de Rond, Kirsten Bjornild, Ben Gomes, Nel Volkers, Marcel van Engelen, Peter Bjørnild, Folker Tettero, Frank Meijer, Rupert Neve Design, sE Electronics, you, my fans, friends and family for inspiration, fun, love to you all.
Contact us: +31(0)20-4634548 / 6653878
Uitgebracht door: CFMusic
Nummer: CGi2012
Tracklist:
Uitgebracht door: CFMusic
Nummer: CGi2012
Tracklist:
1 – Mmm, Come on in my kitchen ((medley) P.Bjornild/R.Johnson/R.Johnson)
2 – I just want to make love to you (W.Dixon)
3 – Never trust a man (C.Gomes) 
4 – I'm torn (C.Gomes)
5 – Love in vain (R.Johnson)
6 – You gotta move (F. McDowell/G. Davis)
7 – Let's go get stoned (R. Charles)
8 – Train song (T.Waits)
9 – The thrill is gone (R. Darnell/R. Hawkins)
10 – I got a man (R. Charles)
11 – That's allright mama (A.Crudup)
12 – Like my man can (C.Gomes)