Ons nieuwe concertprogramma is een perfecte melange van swingende jazz met een bluesy randje en verfijnde liedjes die je raken. De mooiste songs in een nieuwe setting uit het repertoire van Ray Charles. Een boeiend concert met verbindende verhalen over deze grote jazzartiest en zijn inspirerende leven gegeven door Carmen Gomes Inc.: drie heren en een dame die hun sporen verdiend hebben in de jazz scene. Volgens JazzBulletin: "Een buitengewoon transparant spelende droomband met Carmen Gomes, gitarist Folker Tettero, bassist Peter Bjornild en drummer Bert Kamsteeg"
En volgens SoundStage (USA)  "Her style is bluesy and intimate with a sexy voice that's sweet as dark tupelo honey, and her interpretations are unerring. The musicians play to her and to each other, and the ensemble is so tight that the four musicians breathe and move as one."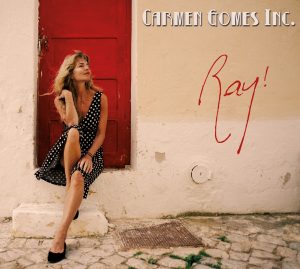 Laat uzelf verrassen door muziek die u  verblijdt en ontroert. Het onverwachte en de herkenning vinden elkaar in perfecte harmonie. In dit onderhoudende concert waarin breekbare momenten een plaats hebben in een swingend geheel waarin u bijna niet stil kunt blijven zitten.
Ons nieuwe album voor 
 is in highresoltion download uit en op cd. 
Op dit album kruipt Carmen Gomes Inc. in de huid van Ray Charles; een greep uit de mooiste, meest swingende en bijzondere songs van dit muzikale genie, balancerend op de rand van soul en jazz en Blues.
Het album past in de serie 'The Arch' van Soundliaision, het High resolution downlaodlabel waar ons album uitgebracht wordt. We maken een  curve op dit album,  van acapella naar voltallig kwartet en terug. Deze boog is technisch qua opname voor de audiophile wereld bijzonder omdat we beginnen met de One mic setting en dan opschalen naar Multimic en terug.  Het repertoire volgt de spanningsboog van Ray Charles' leven inhoudelijk met stukken van zijn hand of uit zijn repertoire.
Alle stukken zijn gearrangeerd met veel ruimte voor het transparante dynamische geluid  Carmen Gomes inc. eigen is.
Carmen Gomes Inc. brengt het verhaal van deze opzienbarende zanger en componist in een wervelend concert waarin er plaats is voor grote momenten en obscure juweeltjes.
Press:
'Gomes heeft een bevallige, bluesy stem, die balanceert tussen sensuele overgave en beheersing'- De Volkskrant
'swingt en beroert haar ode aan Ray van de eerste tot de laatste noot, de jazz (is) altijd hoorbaar in Gomes' geschoolde stem, die uitdaagt en meesleept – zonder overdrijving of stemverheffing. (Hans Invernizzi Jazzflits)
'Amsterdamse die als jazz singer wordt geafficheerd, maar veel meer is dan dat. Met haar schitterende, intiem sensuele stem kan ze alle kanten op'(T.v.Bemmel)
'En het belangrijkste is misschien nog wel dat ze de blues heeft. Niet letterlijk in de zin dat ze de blues zingt – wat ook af en toe wel gebeurt – maar in de zin dat haar stembuigingen doordrenkt zijn van alles waar de blues voor staat en dat is geen geringe prestatie.' – Trouw
Carmen Gomes won het Nederlands Jazz Vocalisten Concours en de "Singer of the Year Award" bij het Concours van het Breda Jazz Festival, dat werd gewonnen door haar band. Ze maakte opnames met het Metropole Orkest, speelde op het North Sea Jazz Festival, het Yokohama jazz festival in Japan, Copenhagen Jazzfestival en trad o.a. op met Louis van Dijk en Eric Vloeimans, Rob de Nijs, Angela Groothuizen en het Goede Doel. Carmen Gomes Inc. heeft diverse theater tournees gemaakt en 12 albums uitgebracht.
review hi Fi news ( U.S.A)
Carmen Gomes Inc
Up Jumped The Devil (DSD64/128/256/512; DXD)*
www.nativedsd.com; Sound Liaison SL1043A
Just when you thought you'd heard every possible take on the songbook of Robert Johnson, from true acoustic versions to Clapton's electric tracks, up jumps singer Carmen Gomes with her own rendition. The legendary bluesman died aged just 27 in 1938, amidst all those 'sold his soul to the devil' legends, and left a catalogue of just 29 songs, so you could argue there's nothing new to hear. However, Gomes gives her selected tracks an atmospheric, mystical spin, with minimal backing, a simple mic set-up, in Sound Liaison style, and a 'straight to DXD' as-live recording approach. Her sultry voice has immediacy and intimacy, the instruments captured with real vitality, and the whole recording drips with presence and a sense of performance. I can imagine this one proving popular on the demo circuit if we ever get back to them – and that would be no bad thing. AE