'Jazz vol Blues'  een perfecte melange van swingende jazz met een bluesy randje en verfijnde liedjes die je raken. De mooiste songs van o.a  Nina Simone, Frank Sinatra, Billie Holiday, Fats Waller, Ma Rainey, Blind Willie Johnson en speciale aandacht voor Ray Charles en eigen werk. Alle stukken zijn gearrangeerd met veel ruimte voor het transparante dynamische geluid  Carmen Gomes inc. eigen is.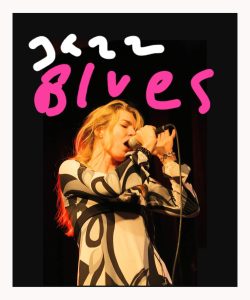 Laat uzelf verrassen door muziek die u  verblijdt en ontroert. Het onverwachte en de herkenning vinden elkaar in perfecte harmonie. In dit onderhoudende concert waarin breekbare momenten een plaats hebben in een swingend geheel waarin u bijna niet stil kunt blijven zitten.
Ray! album reviews:
"With the wonderful lead vocals of Carmen Gomes, the Carmen Gomes Inc. band delivers an album I find totally engaging from start to finish.They make these songs completely their own while honoring the great Ray Charles in so doing. This is their music, with a nod to the master here and there….Tettero's guitar is the 2nd protagonist in this story of a love affair taking a wrong turn. The guitar is of equal importance to Gomes' voice, it's the CC Rider Carmen is singing about. Listen to how they keep on challenging each other yet never get in each other's way. That kind of communication and musical empathy is a rare find. And a rare treat to hear.
Sound Liaison's recordings continue to impress me with their very clean, transparent, and precisely localized sound.
Recording engineer Frans de Rond's signature is readily apparent in the purity of sound, precise placement…..great depth, and almost physically palpable placement of the musicians in the soundstage.  Highest recommendation." – Rushton  Paul, Positive Feedback, Creative Forum for the Audio Arts
"…It takes a lot of courage to reinterpret the work of The Genius, but Gomes dares and fills out Ray's shoes admirably…her intrinsic straightforward approach is characterized by respect for the original, yet is completely her own. Carmen is not into vocal acrobatics. Yet her personal ode to Ray swings and moves from the first to the last note.Her companions; bassist Peter Bjørnild, drummer Bert Kamsteeg, and guitarist Folker Tettero, never overplay, but what they play stands as a rock. The sun is gonna shine again' is left completely bare or with only Bjørnild's bass accompanying; …It was already apparent in 1994, when she won the Dutch Jazz Vocal Competition, that she belonged among the top European jazz singers.With the addition of Folker Tettero in 2006, the blues got the upper hand in Carmen Gomes Inc. Tettero's measured chords and riffs create the perfect setting for Gomes to blossom.Her jazz heritage always remains audible in Gomes' skilled voice, which carries you away and challenges you, without falling into the common trap of exaggerated vocal extravaganza." – Hans Invernizzi, Jazzflits
"Her style is bluesy and intimate with a sexy voice that's sweet as dark tupelo honey, and her interpretations are unerring. The musicians play to her and to each other, and the ensemble is so tight that the four musicians breathe and move as one." SoundStage (USA)
Carmen Gomes won het Nederlands Jazz Vocalisten Concours en de "Singer of the Year Award" bij het Concours van het Breda Jazz Festival, dat werd gewonnen door haar band. Ze maakte opnames met het Metropole Orkest, speelde op het North Sea Jazz Festival, het Yokohama jazz festival in Japan, Copenhagen Jazzfestival en trad o.a. op met Louis van Dijk en Eric Vloeimans, Rob de Nijs, Angela Groothuizen en het Goede Doel. Carmen Gomes Inc. heeft diverse theater tournees gemaakt en 12 albums uitgebracht.
'En het belangrijkste is misschien nog wel dat ze de blues heeft. Niet letterlijk in de zin dat ze de blues zingt – wat ook af en toe wel gebeurt – maar in de zin dat haar stembuigingen doordrenkt zijn van alles waar de blues voor staat en dat is geen geringe prestatie.' – Trouw
https://www.youtube.com/watch?v=5y9tur4BBD0
https://www.youtube.com/watch?v=Kf_S2l3Y_lM
https://www.youtube.com/watch?v=34jvCjrue40
https://www.youtube.com/watch?v=DypP5GnMakQ